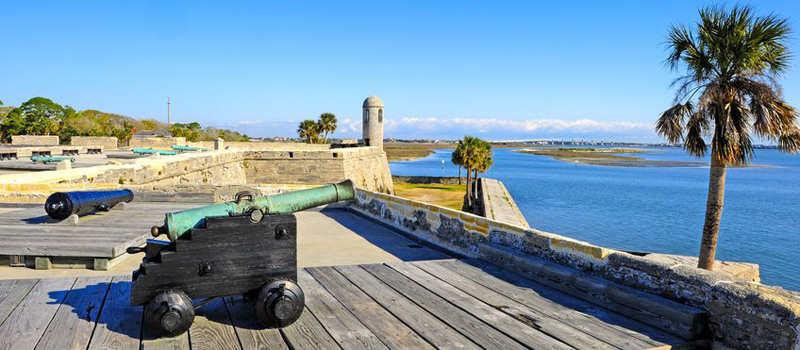 City Among Florida's 'Wonders'
Miami Herald readers include St. Augustine in Seven Wonders of Florida listing
Everyone in St. Augustine knows that this city is special. Now it can add claim to being one of the Seven Wonders of Florida. Readers of The Miami Herald voted St. Augustine to the list of the Seven Wonders of Florida from a list of 21 candidates. St. Augustine was the only place in North Florida so honored.
St. Augustine Named a Top 10 Destination by American Express
ST. AUGUSTINE, Fla. (Sept. 8) St. Augustine has been named by American Express as one of the ten "surprising, exciting, and cutting-edge places" in the world where Americans can enjoy one of their favorite travel pastimes.
A survey of American Express cardholders revealed that 87 percent selected vacation destinations based on their personal interests. The top ten interests named were culinary, family events, music, fitness and exercise, education/learning, history, the arts, wine/champagnes, fashion/shopping and sporting events. American Express then selected ten "unexpected" destinations worldwide where these interests could be enjoyed. Their history recommendation was St. Augustine, Florida.
American Express said: "Not many history buffs would consider St. Augustine, Florida their ultimate destination. However, this city celebrated its 400th birthday back in 1965. Founded by the Spanish in 1565, it is where the nation's first schools, hospitals and banks were built. St. Augustine lays claim to the first European birth in the New World and is the oldest town plan in the United States. It was here where the first Thanksgiving actually took place, not at Plymouth Rock."
St. Augustine was one of only two American destinations to make the list. The other was Virginia's wine country. The other recommendations made by American Express were: Culinary – Vietnam; Family Events – Lake Garda, Italy; Music – Iceland; Fitness and Exercise – Madagascar; Education/Learning – Kerala, India; The Arts – Beirut, Lebanon; Fashion/shopping – Durban, South Africa; and Sporting Events – camel racing in the United Arab Emirates.
The American Express selection is the latest in a series of travel-related accolades recently bestowed on St. Augustine – a city of only 12,000 residents located on the Atlantic coast of northeast Florida. In August, ABC'S "Good Morning America" in conjunction with Travel + Leisure magazine, named St. Augustine as their number one pick for a place where Americans could feel like they were in Europe – without the cost of actually going to Europe. In June, USA Today selected St. Augustine as one of their ten recommended American destinations where visitors don't need a car to enjoy their visit.
City Hits Another Top List!
"America's big cities may get all the splashy buzz," Fodor's Travel Blog says, "but for savvy travelers, our small towns are our best-kept secrets." And among the "10 Best Small Towns in America" Is St. Augustine, says Fodor. "In a time when 'authentic' is a travel buzzword, these hamlets are attracting visitors with an often unexpected-and surprisingly sophisticated-array of independent and locally-minded cultural, outdoor, and culinary offerings, all minus the urban price tags."
St. Johns County
St. Johns County has it all – from luxurious resort communities in the north, to farmlands in the west, to the international gathering place of St. Augustine, the heart of the county and the Nation's Oldest City. St. Augustine's centuries of history beckon three million visitors from around the world each year. Founded in 1565 by the Spanish, St. Augustine is a city of carefully preserved historic sites, attractions, and neighborhoods. Spanish influence is seen in architecture, street names, food, and art. Residents and visitors to St. Johns County are treated to scores of celebrations and events all year long — from the Great St. Johns County Fair in the spring to the acclaimed holiday season Nights of Lights, with many of festivals and historic tributes in between. St. Johns County also celebrates the great outdoors. Forty-two miles of beach offer a natural playground for water sports such as fishing, boating, sailing, and surfing. St. Johns County is home to several major fishing tournaments. And perhaps the best-loved sport in the county is golf. St. Johns County is home to the multifaceted resort community of the World Golf Village, with its centerpiece World Golf Hall of Fame — an interactive museum paying tribute to the game and its players. The PGA TOUR is headquartered in Ponte Vedra Beach and hosts the annual Tournament Players Championship (TPC) at Sawgrass which draws worldwide attention. The annual Liberty Mutual Legends of Golf Tournament is also played in St. Johns County. Amateur and weekend golfers can find plenty of beautiful private and public courses. The Association of Tennis Professionals (ATP Tour) maintains an elaborate world headquarters in Ponte Vedra Beach where players can practice on grand slam style courts. Motor sports are also popular in this area, and crowds gather at the St. Augustine Speedway to watch drivers race around the half-mile asphalt oval. But whether you choose to play or to relax, this region is definitely known as America's First Romantic Destination. Many people start out visiting here, making memories as they stroll along the bayfront or unwinding at a first-class resort. Several folks find themselves drawn back here to call this place home, capturing the timeless beauty and easy charm forever… finding it all in St. Johns County.
Handicap-Equipped Beach Chair
Two county departments, St Johns County Fire Rescue and St Johns County Beach Services, were presented a handicap-equipped beach chair that will be used to assist disabled citizens who want to enjoy our local white sand beaches. The chair was donated by the Beaches Council for the Disabled.
"We would like to give special thanks to Mr. and Mrs. Larry Thomas for their generous monetary donation which allowed this chair to be purchased and put into action on St Johns County beaches."
The chair is made of PVC pipe and has 21″ "Wheel Ezz" tires that make it very easy to roll through soft sand; enabling disabled adults or children to enjoy the beach. To reserve or use the beach chair, residents and visitors can make contact with St Johns County Beach Services at (904) 209-0752.
St. Augustine
St. Augustine's 12,000 residents live with hundreds of years of history every day and share it with millions of visitors each year. Tourism is the mainstay of St. Augustine's economy, with historical sites, the beaches, and outdoor recreation drawing travelers from around the world. The city's rich history and cultural diversity have helped shape a dynamic city for both residents and visitors. The story of St. Augustine, carefully preserved through archaeological digs and scholarly research, is the foundation of sightseeing tours via tram, trolley horse-drawn carnage or cruiseboat. Historic landmarks include the Castillo de San Marcos National Monument, a living history museum which interprets life in colonial St. Augustine circa 1740; the Fountain of Youth Discovery Park, where it is said Ponce de Leon sought everlasting youth; and the Mission of Nombre de Dios, where Pedro Menendez de Aviles first set foot on Florida's shore in 1565. Still other landmarks include the Ponce de Leon and Alcazar hotels built by Standard Oil magnate Henry Flagler in the late 19th Century Today those grand Victorian structures house Flagler College, St. Augustine City Hall, and Lightner Museum, a Victorian collectibles museum. The original 1888 Casa Monica Hotel has been restored into a luxury hotel and provides world-class accommodations in downtown St. Augustine. The city has more than 50 attractions, historic sites, and points of interest. Accommodations are plentiful and range from splendid resorts to charming bed and breakfast inns. Dozens of unique restaurants are sprinkled throughout St. Augustine, ranging from quaint cafes to four-star rated dining establishments, with many restaurants serving as attractions themselves. Shopping in St. Augustine is a buyer's delight with boutiques, unique gift shops, antique stores, and museums waiting to be discovered on nearly every downtown street. On the outskirts are shopping malls and retail centers, including miles of outlet shopping at the St. Augustine Outlet Center and the Belz Factory Outlet World, both at 1-95. Downtown St. Augustine offers established neighborhoods, several on the National Register of Historic Places. Home ownership and rental property are available here, many with restoration and renovation possibilities.
St. Augustine Beach
Across the Intracoastal Waterway lies Anastasia Island, a barrier island separating the Atlantic Ocean from the mainland. Highway A I A South takes you to the City of St. Augustine Beach. The oceanfront city features wide sandy beaches, driveable in some sections, pedestrian-only in others. A natural sand dune lines the coast for nearly 12 miles all the way to Marineland. The St. Johns County Fishing Pier and Beaches Visitor Center & Pavilion lie in the heart of St. Augustine Beach, an area boasting a variety of motel, hotel, condominium, and camping resort accommodations. Several excellent restaurants line A I A, many specializing in St. Augustine seafood, and beach lounges offer nightly entertainment. For outdoor fun there is beach volleyball, miniature golf, tennis, paddle tennis, and of course water sports, with surfing being the most popular in this area. Retail shops abound as well, offering ready access to swimwear, beach and casual wear, beach rentals, and gifts. Oceanfront, beachside, and Intracoastal Waterway settings are residential options, along with tranquil island neighborhoods. You'll find single-family, condominium, and apartment availability in all areas. Marsh Creek Country Club is another addition to Anastasia Island living, offering luxurious homes around an 18-hole championship golf course. St. Augustine Beach residents enjoy a casual life-style, sharing with visitors one of St. Johns County's most valuable natural resources… the beaches.
Ponte Vedra Beach
Tucked just 20 minutes north of St. Augustine is Ponte Vedra Beach, a luxurious golf and tennis resort area featuring toprated traveler accommodations and service, as well as exclusive residential neighborhoods. The carefully preserved zoning in the original section of Ponte Vedra, begun in 1928, has helped the community retain its remarkably attractive neighborhoods, stretching along five miles of oceanfront and lagoons. Rentals and purchases are available through local realtors. Ponte Vedra Beach resorts earn coveted four-star and four-diamond awards year after year for top of the line accommodations, service, food and ambiance. Nearby the resorts are the headquarters of golf and tennis. The PGA TOUR is based here with club and headquarters, and the ATP Tour (Association of Tennis Professionals) has an extensive training, tournament and administrative facility here. There are tournaments at both facilities throughout the year, such as Tournament Players Championship in March, the USGA National Amateur Championship, and the ATP Classic. These tournaments bring thousands to Ponte Vedra Beach to watch professional golf and tennis.
Hastings
Hastings, 18 miles southwest of St. Augustine, is St. Johns County's agricultural center. The community dates from the late 1800's when Henry Flagler built grand hotels in St. Augustine for wealthy winter travelers. The town of Hastings actually grew from a garden. Flagler, needing a source of fresh vegetables for his hotel guests, persuaded Thomas Horace Hastings, a relative of Flagler's architect, to develop farmlands to grow winter produce. Soon a booming agriculture industry had grown up in the area with the town of Hastings as its center. Today, Hastings remains a farming center and is known as the Potato Capital of Florida. Potato acreage covers some 2 1,000 acres. Other crops include cabbage, onions, eggplant, and ornamental horticulture. Timber and livestock interests are here as well. A drive south along State Road 207 will take you into Hastings, where you can still experience Old Florida, including interesting old farmsteads, bustling new ones, the town center, and the old St. Ambrose Parish.
Northwest
Northwest St. Johns County combines the best of country living with the convenience of city services nearby. About a 30-minute drive from both St. Augustine to the south and downtown Jacksonville to the north, this community runs along scenic State Road 13 and the St. Johns River and its tributaries, Julington Creek and Durbin Creek. Many types of outdoor recreation are available including boating, sailing, canoeing, fishing (the area is famous for its bass and other fresh water fishing), golf, tennis, and other sports. Mills Field Recreational Park on Racetrack Road has 8 baseball fields, lighted tennis courts, and picnic grounds. In addition, the new 26-acre Bishop Estates Park is being developed. The Champions Golf Course at Julington Creek is a semi-private, 18-hole golf course offering challenging play for all levels. The country setting with close access to shopping, schools, churches, and an abundance of nature's beauty gives Northwest St. Johns County choice residential possibilities.